Monhegan Farewell
Labor Day 2010  has just past.  And as often observed, there has been a change in the air as the temperatures have dropped following whatever was of Hurricane Earl. For the Raquel (Ricki) and Peter Boehmer family, a seismic change beyond that of the air has descended upon us.  After our marvelous Monhegan years, we no longer have a residence on the Island; we've very happily sold our Lobster Cove home to Emily Morse!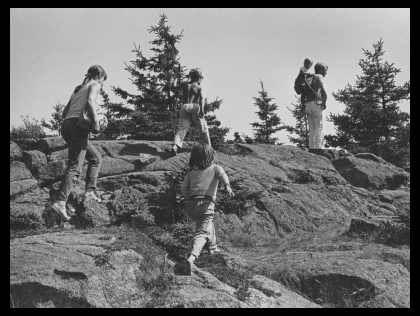 I, Raquel, find that I want to post some sort of a goodby and a thank you. And I'm discovering that this is very difficult to frame in words – my feelings are emotional and therefore, invisible and hopelessly ephemeral.  But I still want to give a try.  After all, I have lived more than half my lifetime on the place that I felt one with – and now find myself constructing new routines, living elsewhere.
For those who don't know us, we decided to move ashore (Falmouth, ME) for reasons that were based upon family health, seven years ago.  'Tho the focus of health has shifted to now include more of "us", we know that we made a proper decision.  So, the house that Peter built for us went up for sale, and we have moved off Monhegan.  Impossible to have once considered – I had envisioned myself being taken off in a wooden box!
Our children, their spouses and families are well and also chose to live elsewhere.  None of us will ever have the memories and effects of island living taken from us.  Those seasonal rhythms, persons and experiences that entered into our hearts and minds are there for always.  In fact, to a large measure, those  influences were the foundry where their/our present characters and strengths were shaped.
Personally, I have had my life deeply enriched by the people we lived with, ran across, or  invited to visit and experience Monhegan. And when it came to health issues, there has never been a locale that could so support and encourage one back into better health and with a constructive attitude. Never.   I do thank you all as you have been the wings that held me up – all too often, I'm afraid.  But you were there.  You are not to be forgotten. You were elements that helped shape the islandness that we were privileged to share for those many years. I shout: hooray, thank you and glory.
Asking for a mantle of blessings over each, I add my loving appreciation.
Raquel and family