Thank you, Bradley!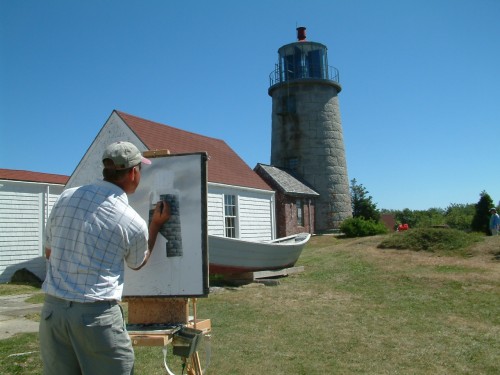 About The Artist
 Bradley Hendershot is primarily a painter of coastal Maine and rural Pennsylvania – regions that he knows well, regions that have special meaning to him. Many of Brad's subjects can be found close to his home and studio in Upper Hanover Township in Montgomery County, Pennsylvania. "My Pennsylvania paintings depict the rural community and a way of life that is quickly fading into the past. Many of the timber and stone barns and mills, the houses and outbuildings, which are part of the Pennsylvania heritage, are rapidly disappearing. I'd like to feel, in a way, that I have preserved them in my paintings."
"In Maine, I paint the rugged shoreline of the mid-coast region and Monhegan Island where I enjoy the smell of salt air and the feeling of sea spray. I've always loved the sea, probably a combination of things –the boats, the energy of the surf, the rocks, the storms and the romance of it all. I hope this comes across in my paintings of the weathered clapboard lobster shanties and the granite towers of the lighthouses."
Brad has been drawing and painting most of his life. "My early inspiration and guidance came from my father, artist Ray Hendershot."
Using a representational approach in his painting, most of Brad's work has been in the water-media. "I find watercolor to be very challenging and rewarding, and I like the spontaneity and freshness of the medium." If Brad gets particularly involved with the form and texture of a subject, he takes watercolor one step further, employing a drybrush technique.
Using drybrush, textures and details are built up by applying small strokes of the brush and very little water with the pigment. The drybrush work is built upon an initial watercolor wash that is usually quite fluid. The color, in spots, may be very dense and opaque, emphasizing the transparency of other areas. Most often, a combination of both wetbrush and drybrush techniques can be found in a single work. "I don't stick to the traditional watercolor rules in my painting. I use a variety of techniques, doing what I feel is necessary to obtain the result I want in the finished work." Brad begins each new concept by doing preliminary sketches of the subject. These studies may be done in pencil, pen and ink, or watercolor.
Brad paints with an intense devotion to realistic detail while at the same time artistic license is employed for the sake of composition and to evoke a certain feeling or mood in the viewer. Using his creativity in the overall planning of a work, Brad emphasizes the features and details that best capture and produce the desired effect or emotion. Brad feels that each new work presents an opportunity to develop and refine his techniques. Thus, Brad will continue to grow for as long as he continues to paint.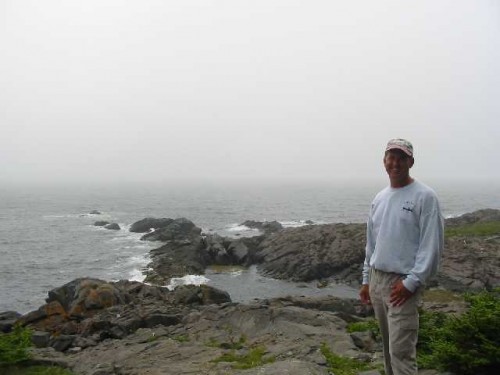 Bradley is currently represented in Pennsylvania by Travis Gallery near New Hope, by Chadds Ford Gallery in Chadds Ford, by Dutchland Galleries in Intercourse, and by Umbehauer's Main Street Gallery in Pennsburg. He is represented in Maine by the Ocean House Gallery in Port Clyde and by Lupine Gallery on Monhegan Island. In July and August, the public is welcome to his open studio at the John Sterling Harbor House on Monhegan Island. He is represented in Delaware by Hardcastle Gallery in Centreville. Bradley is a signature artist member of the American Society of Marine Artists (ASMA), a signature professional artist of the International Society of Marine Painters (ISMP), a signature member of the Pennsylvania Watercolor Society (PWS), and a signature member of the Philadelphia Water Color Society (PWCS). His works appear in public and private collections including the corporate collections of MBNA, Bank of Delaware, Delaware Trust and the University of Delaware. Bradley's paintings have been issued as open-edition reproductions by Bruce McGaw Graphics of New York, and as self-published limited-edition lithographs and giclees. The current publisher of his reproductions is Frames Plus, Inc., of Albany, NY.